Documentaries Catalogue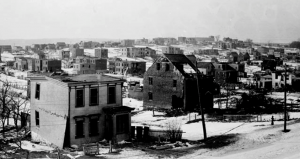 THE HALIFAX EXPLOSION The Halifax Explosion changed the lives of thousands of Nova Scotians almost 100 years ago. Stories from that day are both miraculous and heartbreaking, but this hour long documentary shows how the tragedy was also a catalyst for change. 
Directed by
Jennifer Adcock
1 x 60 minutes
Premiered on
AMI-TV – December 2017
CBC Television (Maritimes) – December 2017

SHAG HARBOUR UFO INCIDENT
On the night of Oct. 4th, 1967, something crashed into the waters of Shag Harbour. This fascinating film tells the story of one of the most mystifying UFO cases ever to come out of North America – an event that thrust a rural fishing community deep into the murky world of military paranoia and international alliances. Decades later, de-classified government documents backed up by credible eyewitness accounts tell a chilling story of otherworldly objects, cold war politics, and bureaucratic bungling.
Shag Harbour is a lesson no one ever learned in history class.
Directed by
Michael MacDonald
1 x 60 minutes SD
Premiered on
SPACE

TRAPPED is a portrait of the town and people of Lockeport, located on the southwest shore of Nova Scotia. It's about a place where rush hour is 4:30 am on the wharf, superstition is as good as law, a shift can be 4 or 40 hours long, and no one thinks twice about driving 40 minutes for a Tim Horton's double double. At the core are a group of people who risk their lives every time they go to work, who can tell the difference between a cod, a mackerel, and an eel with only a whiff and who all have known some-one who went to work and never came home. Most of all Trapped tells the story of a group of characters whose pioneering spirit and passion for the sea and tradition far supersedes any of the practical threats they face. Truly the salt of the earth, these characters are ocean cowboys, caught in a trap between their past and their future, valiantly trying to survive.
Directed by
Sonya Jampolsky
1 x 60 minutes HD
Premiered on
CBC Television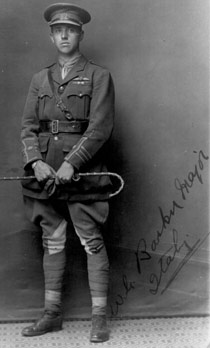 THE HERO's HERO
 Being a fighter pilot in World War I was like signing your own death warrant. Planes were primitive, there was little training, the average life expectancy was less than three weeks, and yet William George Barker logged more time in the air than virtually any other pilot.
He was famous for the brilliance of his aerial attacks and his unwavering courage under fire.
But Barker's prodigal talents ultimately turned against him in a fall from grace that would shake the nation.
Directed by
Michael MacDonald
1 x 60 minutes SD
Premiered on
The History Channel

NIGHTMARE IN CANADA is a one-hour television documentary that tells the story [relates the evolution] of Canada 's horror film industry. Canadian horror films do not only have a distinct look and style but they also explore themes of fear and dread in a truly 'tundra terror' way. Nightmare in Canada will uncover gems from Canada 's film history that combat the stereotype of bland or aloof cinema. Interviews with a wide range of guests will examine the phenomenon of Canada's horror film legacy as favourite moments are shared. Some the best and strangest moments from films such as "Black Christmas", "Shivers", "The Changeling" and "Ginger Snaps" are shown.
Directed by
Jennifer Adcock
1 x 52 minutes SD
1 x 60 minutes SD
Premiered on
The Movie Network and Movie Central
CHILDHOOD LOST For more than 70 years, Canada and Britain were involved in an immigration scheme so cruel it could have come straight from a Dickens' novel. From 1869 to the late 1930's more than 100,000 unaccompanied British children were shipped from the United Kingdom to Canada as cheap agricultural labourers and domestic servants. These Children were part of a little known British Child Immigration scheme run by 50 Childcare organizations in the British Isles. The children, most between the ages of 4 and 14, became known as the Home Children. The story of Canada 's Home Children is one of this country's best-kept secrets.
Directed by

Donna Davies
1 x 60 minutes SD
Premiered on
Global Television

REINVENTING RITUAL
 is a 3 part documentary series, which examines the events in our lives that mark us and define who we are as human beings. Although we all live in the global village, it is our nature to distinguish ourselves, to become unique. Rituals are, and have been for millennia, a celebration of this recognition.
Reinventing Ritual seeks to demonstrate some the modern day rituals we're creating, adapting and using to help us through major life events by exploring youth and rites of passage, marriage and divorce, and birth and death. Rituals have and always will be part of our complex lives.
Directed by
Sonya Jampolsky
3 x 60 minutes SD
Premiered on
Vision TV

THE MOODY BROOD is a television documentary unlike any other. It follows the filmmaker's ten siblings from their childhood in the forties to the present day – from a small Catholic community to the world stage. After the Second World War, there was an idealized, normal family: this documentary explodes that myth. Keating conducted interviews with her siblings using a small tape recorder. Animated by Helen Hill, this production combines old and new technology – 16mm film and computer manipulation – to create innovative animation, with a whimsical soundscape by Helen Bredin and composer Sandy Moore. The Moody Brood examines issues universal to all families: the effects of community and religion, the influence of siblings, and the moral standards imposed by parents. It asks difficult questions: How much do we, as adults, shed these early experiences? Do they shape our whole lives? Is there any such thing as the functional family?
Directed by
Lulu Keating
1 x 60 minutes SD
Premiered on
CBC Television

MINYAN ON THE MIRA, the Jewish People of Glace Bay, is a one hour English documentary about an Orthodox Jewish congregation on the east coast of Canada. They are being confronted with questions about their ability to continue practicing their faith in their community. Having kept their synagogue open decades longer than anyone expected, two recent deaths, and the imminent move of the President of the congregation leaves their future very much in jeopardy. The 25 remaining members of the congregation must now make some pragmatic decisions. Should they give up gathering their own minyan? What will happen to the 95 year old synagogue..? These people are also caught in a quagmire of emotions and philosophical questions as they remember a community that once was strong and vibrant. Minyan on the Mira is an intimate look at a remarkable group of people… Remarkable, yet so common, as minority groups around the world face similar questions and similar fates.
Directed by

Michael MacDonald & Sonya Jampolsky
1 x 60 minutes SD
Premiered on
CBC Television and Vision TV